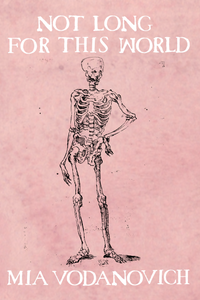 Poetry, chapbook, 36 pages, from Bottlecap Features.
Death is the end of all genres, and characters of all cultures and creeds have found it at their own hands. Not Long for this World takes those characters, from Sophoclean heroines to the stars of horror and science fiction, and explores the humanity and hope that may be found running headlong into tragedy.

Full of yearning, anger, passion, and introspection, the poems – and their narrators – in Not Long for this World seek to find a voice soft enough to be loved and strong enough to be listened to. Some pieces, like "The Monster," place themselves in the mind and body of the character on which they're based, an excavation of the bitterness that isolation has made of them. Others, like "Neil Perry," take the genre and theme of the source and run with it, setting scenes on the backlot of the poet's experiences, casting them with her friends and family.
The common thread among all the poems in this collection? Mortality: not as a reminder that we will all someday die, but that we were all human once.
The cross-pollinated child of farmland and Bay Area 'burbs, Mia Vodanovich is a writer, teacher, podcast co-host, and semi-avid ABBA fan. She received her MA in English at Notre Dame de Namur University and has had work published in The Bohemian, Leaf by Leaf, House of HASH, and Unstamatic Magazine, with a piece forthcoming in Healthline Zine. This is her first published chapbook. Outside the classroom, you can find her bingeing movies with her husband and cats, dancing with her family, or dusting off her cleats on the softball diamond.