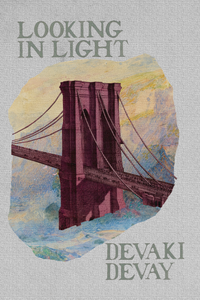 Poetry, chapbook, 40 pages, from Bottlecap Features.
Looking in Light is a chapbook following a speaker who explores their traumatic childhood through recollection, spanning the course of its existence through poems and prose which capture the often dissociative, uncanny nature of traumatized memory. It explores childhood bouts of escapism in fantasy, young adult senses of impending doom, terror, fury, bodily loss, and ends with an approach to the shore of healing: slowing down, and looking back.

The title references an old Indian tale told to children: a fool drops his ring under a streetlight, and it rolls into a dark crevice in an unlit region of the sidewalk. The man searches and searches for his ring, and when he is asked why he doesn't search in the dark, where the ring truly fell, he says: "there is no light there. I cannot see."

This chapbook unfolds from a similar fundamental paradox the speaker was burdened to carry since childhood. It tells the story of a young girl desperately looking for something in light when it had fallen in the dark – love hopelessly lost in the shadows, where she could not see, and she could not search.
Devaki Devay is an Indian writer whose works largely surround trauma as it is experienced through their cultural lens. In their free time, they like to volunteer at their local kitten shelter! Find their work at Peatsmoke Journal, Roadrunner Review, and Barren Magazine, and follow them @DevakiDevay on Twitter.