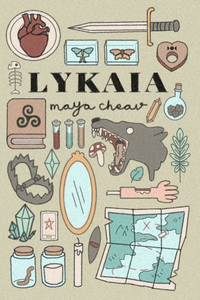 Poetry, chapbook, 32 pages, from Bottlecap Features.
Lykaia gets its name from the myth of an ancient Greek festival that tells the tale of people consuming human flesh and turning into werewolves. They could only morph back if they didn't take a single bite of human flesh for nine years. This chapbook follows a similar evolution. Lykaia reflects on what it means to be a woman, what it's like to be made into a monster for simply existing. When a woman attempts to regain her power, her anger and agony become her greatest weapons; if it is a monster they want, it's a monster they'll get. However, somewhere along the way, the realization sets in that perhaps revenge is not dedicating the rest of one's life to punishing those who have wronged you, perhaps it is allowing oneself to feel joy again. 

Cheav's debut poetry chapbook uses fantastical folklore and myths to articulate the pain of being a woman who's suffered at the hands of men. Lykaia gives space to scream over a cliffside and sob violently, for the horrors of grief and the struggles of healing. This chapbook is for those who know rage like it's a sack of rocks tied to their ankles and those who are looking for a place to put it down.
Maya Cheav is a twenty-one-year-old writer and environmental justice organizer from Long Beach, California. As the child of war refugees who survived the Khmer Rouge, the Cambodian genocide that targeted intellectuals and creatives, Cheav vows to keep writing and telling stories. She spends her free time trying to find a cure for lycanthropy and talking to sidhe fae by the lake of Avalon.