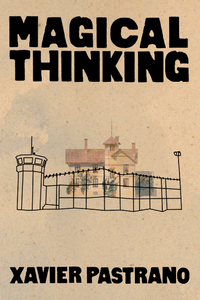 Poetry, chapbook, 40 pages, from Bottlecap Features.
In Magical Thinking, poet Xavier Pastrano delivers a collection of poetry that explores and celebrates what it means to be "multifaceted." He takes a candid look into the various roles and experiences of his life - roles and experiences that are both unique to him yet also relatable to readers of various backgrounds and demographics.

In poems like "Wind Chime," "Box," and "Sounds Exotic," Pastrano examines the complexities and nuances that come with being a mixed-race individual in today's society. In "Roundabout" and "Kid Thoughts," he sheds light on the demands and social expectations of parenthood. In "Chatter," "Home," and "Priceless," Pastrano takes on the topic of mental health and opens up about his battles with anxiety and management of it.

For many, life as a multifaceted individual who wears numerous hats, each with their own demands and expectations, is a familiar reality. While this may sometimes cause stress, worry, and loneliness, Magical Thinking seeks to build camaraderie and support with its readers through candid and visual storytelling.
Xavier Pastrano (he/him) is a poet, metal-head, and English teacher. When he's not in the classroom, he can be found devouring Horror novels & films, creating Zentangle artwork, spending time with his wife and son, and sharing his love of poetry & art through educational workshops. He is the author of XXX: Thirty (Prolific Press), Seeing Sounds (Harsan Publishing), Hey Kid (self-published), as well as individual poems published in the anthologies Thunderstorms and The Scandalous Lives of Butterflies (Scurfpea Publishing) and South Dakota in Poems (South Dakota State Poetry Society).