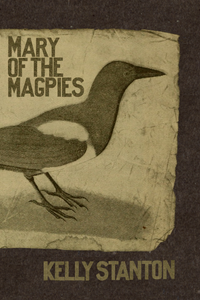 Poetry, chapbook, 32 pages, from Bottlecap Features.
Mary of the Magpies explores the themes of love, grief, and what is worth believing in. It examines the ever-present pull of the past, the confusion of our present time, and the anxiety that the future holds. Mary of the Magpies uses powerful poetry and prose to explore these ideas. Ultimately, it is a story about trying to find home.

Mary of the Magpies searches from Appalachia, to Cape Cod, to New York City for a place to truly call home. Home isn't necessarily the place you were born in, or grew up. It's a place where you can be yourself and let yourself be loved. Home isn't just a palace, but a feeling.
If a home cannot be found, it must be created, like the magpies that fly overhead that make their nests out of grass and twigs.
Kelly Stanton was born in Boston and currently lives in New York City. She is pursuing an undergraduate degree at Fordham University. She loves getting lost in museums, walking dogs, reading horrendously raunchy romance novels, and studying foreign languages. Her other works can be found in the online literary journal Scribere. This is her first published collection of poetry.