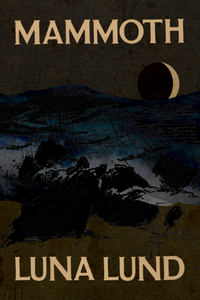 Poetry, chapbook, 44 pages, from Bottlecap Features.
Mammoth is a culmination of poetry Luna has written over the past 7 years. During this time Lu was coping with depression, anxiety, religious trauma, coming to terms with their own gender and sexuality, and the illness and eventual death of their mother. Mammoth centers grief in all its forms. From the anticipatory grief that accompanied the terminal cancer diagnosis of their mother to the angry grief that came years after her death. From the grief of leaving their childhood behind to the grief of a pandemic that encompassed their university years. Mammoth explores the darkest moments of Luna's pain and the greatest joys of overcoming it.

Additionally, Mammoth is a documentation of Lu's journey to self love. It explores the deep-seated conditioning that came with being raised in the Mormon church where they were pressured to not only be perfect, but to be a perfect, heterosexual woman. Upon realizing that they were none of those things, they dealt with crippling anxiety, depression, and self hatred. Mammoth contains both the dark results of these beliefs and the relief of escaping them. Many of the poems Lu has written have been love letters to themself, reminders that in the darkness there is always light. They hope that Mammoth can provide solace to those who have also dealt with similar trauma and that it can give others hope that there is great joy in even the smallest of victories.
Luna Lund (they/them) is a queer singer, songwriter, poet, and artist who has been creating and performing for as long as they can remember. They have always used their creativity to cope with the challenges in their life and using music and writing as an outlet for their pain has been essential to their survival. They are a recent graduate of UC Berkeley, where they studied Sociology and Gender and Women's studies. Lu is passionate about social justice and seeks to cultivate community with a compassionate, trauma informed, intersectional lens. They hope to carve a path in which they can combine their creativity and knowledge of social issues to create spaces of collective healing for trans, queer, and otherwise marginalized youth. While they have always been a creative spirit, it has been a long road to unlearning the self-limiting beliefs that were instilled in them during their childhood raised in the Mormon church. They still have a long road of self love ahead of them, but they are grateful to be in a much better relationship with themself and are excited to finally share some of their soul with the world. Lu is indebted to the writers that have inspired and challenged them to continue to learn and create, including Mary Lambert, Joni Mitchell, Mary Oliver, Audre Lorde, bell hooks, Angela Davis, Alice Walker, Maya Angelou, Gloria Anzaldua, Sylvia Plath, Emily Dickinson, Joan Didion, Lidia Yuknavitch, Glennon Doyle, Sonya Renee Taylor, Danez Smith, Marcelo Hernandez Castillo, Demian DinéYazhí, Alok Vaid-Menon, and so many more.