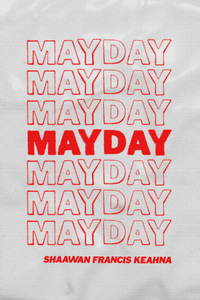 Poetry, comics, chapbook, 32 pages, from Bottlecap Features.
Mayday is a book dead in the water, its distress signal on repeat. Mayday straddles winter and summer like an uncertain lover, not afraid, but cautious. Mayday traces time and space, beguiled by death and climate change, a rhythmic upward spiral by a narrator maybe partway stuck in the time loop of colonialism. This chapbook deals in list-making and nervy, tuneless songs.

Inescapably Indigenous, this chapbook makes no attempt to reconcile "identity" with presentation. Instead, it offers names, places, oral histories, and dreams, and leaves it to the reader to piece it all together. The closest the chapbook comes to a declaration of intent is the subtle blame and condemnation dealt equally to God, Father, the Algorithm, and the Anthropocene, a venomous bite softened by vulnerability and raw, confessional intimacy.

There are countless references to all the ways we keep time in these pages. Clocks, TV, doom-scrolling, sex, box offices and emails and growing resentment. Mayday blends short-form narrative comics with poetry to tell a big story in as little time as possible, with respect to dwindling attention spans and creeping senses of dread. Mayday offers itself, a weapon, a balm. A eulogy.
Shaawan Francis Keahna is a cross-disciplinary artist, archivist, independent researcher and filmmaker. His comics have been published in TransLash Zine vol. 6: Anti-Trans Hate Machine, the Asian Cyborg and Other Othered Bodies, and A Howl: An Indigenous Anthology of Wolves, Werewolves and Rougarou. His writing has been featured in the Blood Pudding, the Vassar Review, and R.I.S.E. His most recent exhibition was in collaboration with Joan Kauppi at the Watermark Art Center, with all pieces from the gallery moving on to the Gizhiigin Arts Incubator in White Earth. Keahna is an enrolled member of the White Earth band of Ojibwe and a descendant of the Meskwaki Nation.