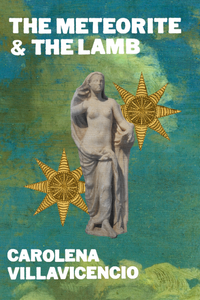 Poetry, chapbook, 36 pages, from Bottlecap Features.
The Meteorite & The Lamb is a collection of praise and longing. Subjects include the self, past lovers, the natural world and friends. Romantic rhyme juxtaposes pedestrian prose to create natural yet meaningful work. Over half of the poems are written to someone specific, exposing the reader to words meant for someone who will probably never read them. This style boldly explores delicate moments.

Subjective truths and intimate details of the author's life are peppered with musings that do nothing to explain themselves. Some poems end unresolved, others feel like completed sagas while nostalgia, gratefulness and desire are themes throughout.

Carolena is a producer and writer working in commercials, film and TV at a boutique production company in LA. She grew up in the suburbs outside DC running around in the woods and playing in the creek with her brother and dog. She's been writing songs, poetry, short stories and scripts for as long as she can remember. She enjoys directing and acting in theatre, painting large portraits for her friends and laughing so hard her abs hurt. Current pleasures include walking on grass barefoot, casting spells and dancing to entertain her cat, though, sharing her words with people interested in reading them is probably her greatest pleasure.