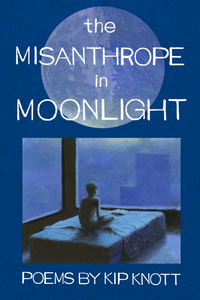 Poetry, chapbook, 28 pages, from Bottlecap Features.
For some, the desire to be alone is a powerful driving force. The Misanthrope in Moonlight serves as a kind of poetic autobiography of one such person who is trapped in a paradoxical existence where the sense of wanting to be alone and the pain of loneliness are constant day-to-day companions. The speaker in these poems finds pain, frustration, communion, and solace in the ruins of a failed marriage; in the people he reluctantly calls friends; in the music that makes up the soundtrack of his life; and in the moon, an inescapable partner that becomes both a symbol of and scapegoat for all the conflicting emotions that define the many phases of his life. One moment, the speaker may find himself expounding on the Existential angst he feels seeing the desiccated carcass of a hatchling chick beneath his bedroom window, and the next moment he might find himself taking inventory of the detritus of everyday items that fill the house of one who lives alone. In the end, though, the speaker finds the kind of peace that comes with accepting the complex and contradictory nature of his being.

The Misanthrope in Moonlight will never be mistaken as a self-help book for those who are trying to navigate the deep night of loneliness. But maybe after reading these poems and learning that there is someone else out there who has loved, been loved, felt loss, and yet somehow come to know some form of happiness while still identifying as a misanthrope, then maybe being alone will seem a little less lonely.
"Aging and illness have taught me a couple of things of late: there's darkness on the heels of every light and silence in the echo of every song. Finding meaning and resonance in those ebbs and flows is the real rub of our time here in this life. I've rarely read a collection of poetry that wrestles with that task as well as Kip Knott's new book, The Misanthrope in Moonlight. These poems provide a haunting soundtrack to the slow decay of life, and to the dark sky looming over all of us, with Leonard Cohen, Hank Williams, and George Jones singing back up and setting the key. The beauty in these pages, though, goes well beyond recognition of this life's dark spaces. The real gift of these poems, this poet, is how every line reminds us 'black is the presence of all colors….full of every beautiful shade of blue.'"

—Jack B. Bedell, author of Against the Woods' Dark Trunks, Poet Laureate of Louisiana, 2017-2019.
Kip Knott is a 7th generation Appalachian who was born and raised in Ohio. A teacher, photographer, and part-time art dealer, he spends his free time traveling throughout Appalachia and the Midwest taking photographs and searching for lost art treasures. His writing and photography have appeared in Barren, Beloit Fiction Journal, Gettysburg Review, Poet Lore, The Sun, and Virginia Quarterly Review. He is the author of six poetry chapbooks, the most recent being Distress Signals (tiny wren lit), and three full-length collections of poetry, the most recent being The Other Side of Who I Am (Kelsay Books). To read more about him and to access more of his writing, go to www.kipknott.com and follow him on Instagram at @kip.knott.