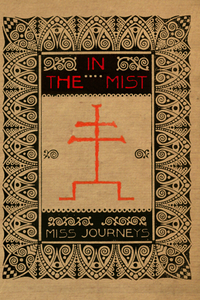 Poetry, chapbook, 52 pages, from Bottlecap Features.
In The Mist is a place where the unseen becomes seen.

Behind the mist, in front of the mist, and In The Mist: the things we only see, taste, feel, smell, hear, and know with our peripheral senses. This is a collection of poetry that asks for your hand to guide you behind the curtain of the living room window.

Behind the curtain, you'll witness a mind stringing puzzle pieces together, a concentrated eye gently piercing an embroidery needle through a plane's wing, and a body coming into formation like a rebus puzzle that only the mind's eye can sense and the unconscious can decipher.

In The Mist connects the reader to the author's chain of being, the author's lowly conversations with henads, and the author's lame plea to the Absolute.

Miss Journeys is unfurling like smoke. They live a simple life of devotion to Being and their husband. They're a magician, a fish, a simpering little girl, and still in bloom and in utero. Miss Journeys is a human that stays in a state of somewhat constant adoration.