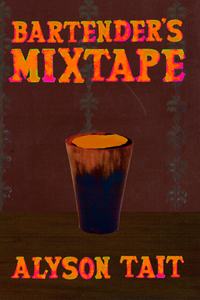 Poetry, chapbook, 16 pages, from Bottlecap Features.
Bartender's Mixtape is a short trip through a life with the lense of alcohol and music. It's linked by recipes, loss, and relationships that have come and gone, some coming later and some going too soon.

The collection of poetry touches on the slippery slope of alcohol and how it affects our memories, although it doesn't aim to provide an answer. Instead its just a testament to memory, and how our future is shaped by them.

Alyson lives in Maryland where she got married, had her daughter, and began her writing journey. She has appeared in (mac)ro(mic), Wrongdoing Magazine, Twin Pies Lit, Pyre Magazine, and HAD — among others. You can find her on Amazon, and Twitter @rudexvirus1. Her website is AlysonTait.com. Alyson also helps run Inkfort Press.