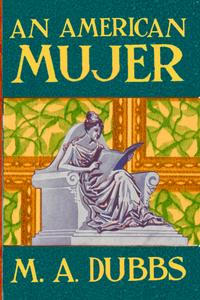 Poetry, chapbook, 44 pages, from Bottlecap Features.
An American Mujer is a mix of poetry, non-fiction, and mixed-media collage exploring the journey growing up as a queer mixed heritage girl in America. The chapbook opens with bilingual poems showcasing the struggle of losing immigrant Mexican heritage to America's melting pot which desires conformity. The poems examine how language connects one to their culture and the generational ancestors before us. It presents the question: What does it mean to be Hispanic? What does it mean to be an American?

The chapbook slowly shifts to the exploration of sexuality and the barriers created by Catholicism and growing up in the Midwest. The pieces show the gradual insight and growth into the author's queerness and beginning to live openly and authentically to the world. The chapbook contains various found poems sourced from magazine covers to highlight the images and messages internalized by young women. It takes a critical look at the marketing and commercialization of womanhood and feminine self-worth.

To end, the poems share the impact of misogyny in the world through individual trauma and the search for healing and peace. The pieces are raw and intimate, filled with the beauty and rage of the journey into adulthood, marriage, and motherhood. The chapbook finishes with the hope to end inter-generational trauma and find the true self, An American Mujer. 
M. A. Dubbs is an award-winning Mexican American and LGBT+ writer who hails from Indiana. Dubbs writes poetry, flash fiction, and interactive/visual media. For more than a decade her writing has been published in literary magazines and anthologies across the United States, Canada, the United Kingdom, and Australia. Her poetry has been archived in Indiana's Poetry Archive (INverse) and she served as judge for the 2022 Poetry Out Loud's state competition. Dubbs lives with her husband, twin girls, cat, and dog and enjoys hiking, gardening, running, mushroom foraging, video games and watching 90s magical girl anime.