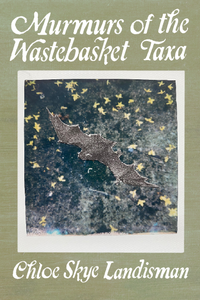 Prose poetry, chapbook, 32 pages, illustrated, from Bottlecap Features.
A refusal to be categorized by the oppressor, a found-home in indetermination, Murmurs of the Wastebasket Taxa considers the lives of animals within the harsh, changed environment of the Anthropocene. In Koan poem-inspired vignettes, these animal protagonists call upon their distant ancestral memory and instincts to guide them through displacement in the wake of human progress. Some dwell in entrapment, aquarium tanks and pet store shelves, dreaming of the wild their foremothers were taken from. Others interrogate the names that have been imposed upon them without their consent; trying to glean identity from meaningless Latin words.

The Wastebasket Taxa is a now-defunct taxonomy classification that contained a variety of animals that were deemed impossible to categorize due to their unusual forms. Many Wastebasket Taxa Alums include bats, ferrets, snakes, and a variety of other animals, mainly invertebrates, who puzzled the taxonomists charged with labeling them. The writing form takes inspiration from the Zen Koan poetry and tradition. The goal of the Koan is to guide the reader to ponder and play with the ideas that it presents them with. Each written piece in this collection harmonizes with corresponding mixed media artwork.

The protagonists of Murmurs of the Wastebasket Taxa urge the reader to conjure their ancestral memory and question their categorization.
Murmurs of the Wastebasket Taxa is the debut chapbook of Chloe Skye Landisman (they/she), a perpetually chilly fiction and hybrid author based in New England. Chlo's writing has appeared in Iō Literary Journal, Fearsome Critters, and Ruminate Magazine. Chlo holds a BFA in Liberal Arts with a focus in Creative Writing from Sarah Lawrence College. More of Chlo's musings can be found on their Instagram (@chlomelie) and digital portfolio (https://chloelandisman.journoportfolio.com).