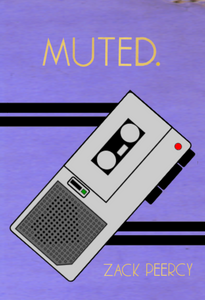 Drama, chapbook, 48 pages, from Bottlecap Features.
Muted. is a one-act play about Sid, a college sophomore, and Chelsea, a ghost of a former middle school acquaintance, in transitional states. Told over twenty-four reflecting scenes in Sid's dorm room, the play forces it's characters to confront their own inertia and grow in small and significant ways.

This is a ghost story for people haunted by the seemingly insignificant moments of life. This is a human story for people trapped in a seemingly meaningless existence. This is a story for people.

Zack Peercy is a disabled playwright, screenwriter, and director based in Chicago. He is a resident playwright at Three Brothers Theater. In 2021, his play ESSENTIAL STARLITE was honored as an O'Neill National Playwrights Conference finalist, a Bay Area Playwrights Festival semi-finalist, and a Blue Ink Playwriting Award semi-finalist. He has developed work with The Wampus Cat Collective, Intrinsic Theater Company, The New Coordinates, Unheard Of Company, Broken Bell Reads, Jackalope Theater Company, and others. His plays can be found on New Play Exchange and his curated personality can be found at @zackpeercy.