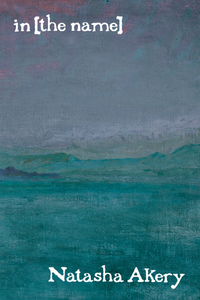 Poetry, chapbook, 32 pages, from Bottlecap Features.
in [the name] is a collection of haiku inspired by the stories of characters in the Tanakh (Hebrew Bible), written after traveling in Egypt. Each poem reframes well-known as well as lesser-known biblical stories to question who holds power and whose stories are often prioritized.

In the spirit of traditional haiku, the poems capture moments in time marked by sensory images and intriguing landscapes. The poet also explores a more modern approach to haiku by depicting the human capacity to feel wonder, pain, and conviction.

in [the name] can be appreciated without prior knowledge of the source material but the reading experience will certainly be enriched when paired with each biblical figure's story. Whether you are devout, nonreligious, or deconstructing your faith, these haiku are for you.
Natasha Akery is a language arts teacher and poet from Charleston, South Carolina. She graduated from the College of Charleston with a Bachelor of Arts degree in Religious Studies, specializing in biblical literature and esoteric traditions. For three years, she was an editor and a writer for 1:1000, an online literary journal that published flash fiction paired with photographs. She now devotes her writing practice to haiku with themes of heritage, motherhood, and spirituality. You can find her poems on Instagram (@writethreelines), on Ello (@writethreelines) and in I Am a Furious Wish: Anthology of Lowcountry Poets, Vol. 1 published by Free Verse Press.