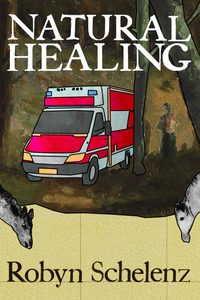 Prose poetry, chapbook, 32 pages, from Bottlecap Features.
Ambulances in the forest. Horses in therapy. Mountains in the bathtub. A bowling pin stuck in the U.S. healthcare system.

The world is in crisis in Natural Healing, but that's nothing new. Fortunately, there's no shortage of strategies and structures to deal with a world falling apart and us falling apart in the world. Juxtaposing natural figures against a backdrop of consumerism, Natural Healing invites us to imagine just how comfortable concepts of the natural and healing are as bedfellows and just how far into the surreal and absurd those words can take us in an effort to see life around us anew.

The other side of a story designed to put you to sleep, Natural Healing is a series of meditations, fables, and darkly humorous prose poems on our world of disaster that reference various ways we try to heal, if only from our anxieties. Where magical thinking meets surrealism on a plane of eco-poetics, "Natural Healing" is Aesop updated for the Anthropocene, an invitation to dream and then better understand and change our world.
Robyn Schelenz is from Birdsboro, Pennsylvania, and lives in San Francisco. Her work can be found in Maudlin House, Back Patio Press, Gone Lawn, Touch the Donkey, DUSIE, The Nervous Breakdown and JAKE. She writes when either the dog or the spirit moves. She is in a long-distance relationship with the muse that takes what it wants and leaves.