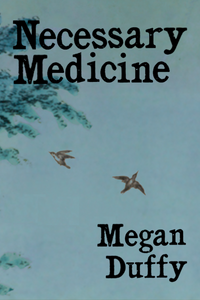 Poetry, chapbook, 24 pages, from Bottlecap Features.
In this debut collection by Megan Duffy, the poems in Necessary Medicine deconstructs complex emotions by equating them with everyday objects and images from the natural world. Themes of motherhood, childhood illness, neurodiversity, and postpartum depression weave and ricochet throughout this sequence of offerings.

The poems in Necessary Medicine have appeared in Off the Coast, The Lindenwood Review, The Wilderness House Review, Bath House Journal, The Milo Review, Blood Lotus, and other print and online journals. Two of the poems ("December" and "Moving Day") have been set to music by composer Randall Woolf and performed by Oren Fader and Jessica Bowers. 
Megan Duffy is a poet, painter, and librarian. She has studied with poets Eileen Myles and Rachel Hadas and has been published in various print and online journal. She lives and writes in New York City.