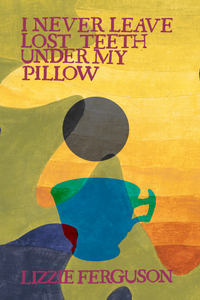 Poetry, chapbook, 56 pages, from Bottlecap Features.
Lizzie Ferguson's first collected work is a challenge to the reader to embody different stages—"spirals" in the text—of presence, growth, and complexity. Curl in a ball. Live with tsunamis. Fall in love again. At once metamodern and hyper-embodied, I NEVER LEAVE LOST TEETH UNDER MY PILLOW reminds us of the space between moments, of our power to heal, and to continue making sense of a world that often seems senseless.

Explore intimate coming-of-age moments from the diary of a Catholic school girl. Become gentle dust or a bellowed breathe. Resume an old conversation about gender. Tweet about g-d with the lights off. Gouge out your eyes with St. Lucy. Take control with the moon, and learn about becoming a shadow around dad's new cane.

I NEVER LEAVE LOST TEETH UNDER MY PILLOW invites the reader to face their own memories with radical self love.
Lizzie Ferguson, M.A., is a Chicago-based poet and a proud first-time member of the Bottlecap Press family. Core to her identity is love of mind, body, and spirit sustained by her habits of running, yoga, radical relationship building and witchcraft. She was born outside of Philadelphia and recently returned from two years of living in and building community with neighbors in Togo, a country of friends sandwiched between Ghana and Benin in West Africa. Presently, she celebrates the rain by designing systems to support an environmental movement that is justice oriented.