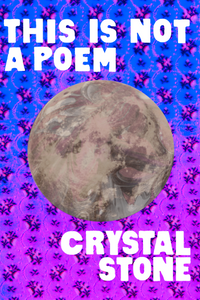 Poetry, chapbook, 20 pages, from Bottlecap Features.
This is Not a Poem is an exploration of aging, memory, and identity inspired by Stone's professional work at a nursing home in the height of the pandemic. From her work with older dementia patients in the last days of their lives, she realized we know so much that we don't realize what we've forgotten. These poems reflect the ways that memory changes as we age and experience new emotionally-charged events: traumatic, joyful or otherwise emotionally memorable.
Here, Stone constructs and deconstructs narratives in a way that reflects the aging process. The poems demonstrate how shifts in our memory also impacts our identity—both how we see ourselves and how we relate to others. The poems model, in some ways, the brain leaps in dementia patients as the narratives in the poems unfold. Sometimes the brain mismatches details; sometimes the whole story is present for a moment. As time progresses, the gaps get bigger. Sometimes they become non-verbal like words without vowels, without consonants. This is Not a Poem will start with a personal poem about a childhood memory and progress to reflect the way that memory gets stunted, shifted, changed as it's remembered, accessed, and infused with new memories as the years go by while showing fragments of the relationship the author developed with a dementia patient in her work at a nursing home in the height of the pandemic.
Crystal Stone is author of four collections of poetry, Knock-Off Monarch (Dawn Valley 2018), All the Places I Wish I Died (CLASH 2021), Gym Bras (Really Serious Literature 2021), and Civic Duty (Vegetarian Alcoholic Press 2022). Her poems have been published in numerous national and international poetry journals including The Threepenny Review, Salamander, poetry Daily and many others. She received her MFA from Iowa State University, where she gave a TEDx talk entitled 'The Transformative Power of Poetry.' You can find more of her publications at her website www.crystalbstone.com.