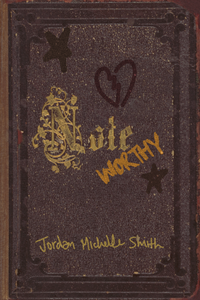 Poetry, chapbook, 36 pages, from Bottlecap Features.
"On paper, I was the perfect college student. My CV is twelve pages long and I had the big-money scholarships everyone's parents are pushing for. But inside my notebook—on my paper—I was just a self-destructing imposter someone let slip through the cracks. I walked through hallways half-alive, fighting to keep from relapsing into my eating disorder or dissolving into the ground with depression or anxiously bursting into flames in class when a professor asked why my assignment was late.
Every list, poem, and note to self in this chapbook was written during class, usually right in front of my professor as I was, of course, a front-row student. I wrote it down to keep from hyperventilating. I'm publishing it now to remember who I was, or maybe to remind myself that I survived—but certainly for other first-generation eldest daughters to know they are not alone."
—Jordan Michelle Smith
Jordan Michelle Smith is a poet, advocate, and recent graduate in English Literature from the University of Arkansas. She has previously worked with Open Mouth Literary Center as their December 2021 Resident Poet, West Fork Public Library as their April 2022 Featured Reader, and she always credits her start in poetry to fellow Monticellonian and "fellow tourist," Bryan Borland.