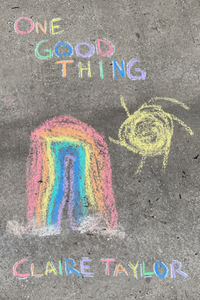 Poetry, prose poetry, chapbook, 20 pages, from Bottlecap Features.
One good thing is turning your anti-anxiety practice into a poetry collection.

With this series of thirteen prose poems, all but one of which share the same title and opening line, One Good Thing invites readers to witness the unspooling of Claire Taylor's mind. Born from a pandemic practice in which the author managed her anxiety by taking long walks through her neighborhood and focusing her attention on one good thing she could see, remember, or imagine, One Good Thing is a carefully crafted stream of consciousness.

A blend of memory and dream, this collection embraces the reality that happiness must coexist with suffering. A pandemic reflection that is not about the pandemic, One Good Thing encourages the reader to let it all in: joy and heartache, grief and pleasure, a life that cannot be distilled into a solitary experience.
Claire Taylor is a writer in Baltimore, Maryland. She is the author of a children's literature collection, Little Thoughts, two micro-chapbooks: A History of Rats (Ghost City Press) and As Long as We Got Each Other (ELJ Editions), and a self-published chapbook, Mother Nature. Claire's debut picture book, Benjamin's Sad Day, is forthcoming from Golden Fleece Press. She is the founding editor of Little Thoughts Press, a print magazine of writing for and by kids. You can find Claire at clairemtaylor.com.