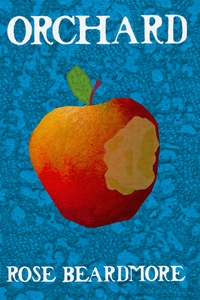 Poetry, chapbook, 32 pages, from Bottlecap Features.
Orchard is a collection of poems exploring the complications of intimacy, femininity, and coming of age in a society that values romantic relationships above all else. This debut collection hovers between realms of melancholic longing and acceptance, interwoven with reflections on daughterhood and mental illness. Orchard is an ode to "it's complicated", a celebration of growth and the discomfort that comes with it.

Also of notable importance: apples and trees and horses and God and brunch and Amsterdam and a dog named Juno.
Rose Beardmore is a writer and theatre artist living in the Boston area. She studies English literature and theatre at Suffolk University. Her work can be found periodically onstage at the Sullivan Studio Theatre and in print with Venture Literary Magazine. When she isn't reading, writing, or taking the train to rehearsal, she's probably just going for a walk in the park.