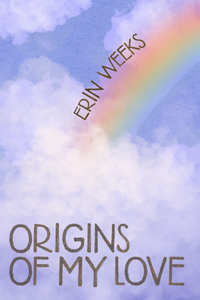 Poetry, chapbook, 32 pages, from Bottlecap Features.
Origins of My Love is a collection of poems about growing up in a small, rural town and plays on themes of deep nostalgia. The poet looks back on the past, focusing on the beauty of the landscape and the bittersweet feelings that come with returning home. The book follows the different seasons of the year, beginning in the spring and gradually progressing to wintertime. Many of its poems were written in a time when the author was going through tense life changes – its contents are a reflection of the past and all the sentiments she held near to her during those harder times.

Origins of My Love reminisces on best friendships, childhood, tradition, wild country and religion. It is rich with imagery and meaning, with each poem holding a deep significance to the writer. It takes the reader through gardens and graveyards while teaching lessons on bee charming and finding the strange magic in everything. This book functions as a field guide, a diary, and in its own way, a ghost story.

Erin Weeks is an American poet from South Carolina and has been writing poetry since she was a little girl. Origins of My Love is Erin's first published poetry collection, with her work previously being only published in her university's literary journal, Broken Ink. Erin spends most of her time either writing or creating artwork - she is best known for her artwork which can be found on Instagram @poetry.erin.