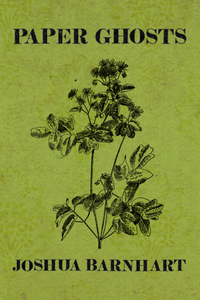 Poetry, chapbook, 36 pages, from Bottlecap Features.
In their debut chapbook, Paper Ghosts, Joshua Barnhart explores the intricacies of family relationships and the complex nature of identity. Through their use of archival material and personal narrative, Barnhart illuminates the ways in which our ancestors shape our understanding of ourselves and the world around us. They navigate the tensions between individual and collective identity, and ultimately ask the question: how do we define ourselves in relation to the ghosts of those who came before us? This collection reflects on the ways in which we are all connected, and the impact that our histories have on our present and future selves.

These poems are image-rich and thoughtful, sonically rewarding and endowed with a drummer's sense of rhythm and meter. Barnhart embraces uncertainty, placing memory against evidence in an attempt to build three dimensional figures from old photographs, newspaper articles, and recorded voices. This work invites us to look inward, and to cultivate a sense of curiosity about the obscure as a means of uncovering and recuperating ourselves.
Joshua Barnhart (he/they) is a poet, educator, and musician from California who performs music under the name Strange Pilgrim. Their poetry often explores family history, touring life, identity, and the landscape of the west coast. This is their first chapbook, and their work has also been featured in Blue Mountain Review. He is a graduate of Oregon State University's MFA program, and currently lives in Portland, OR.