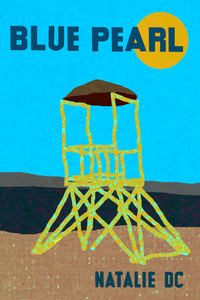 Poetry, chapbook, 20 pages, from Bottlecap Features.
blue pearl takes its reader on a tense summer vacation in a tiled bougainvillea-shrouded palace located in a sleepy, seaside Moroccan town. Here, the author nonlinearly explores her fractured cultural identity in poems such as 'halved,' her entangled familial relationships in confessionals such as 'bad again' and 'two names,' and her centipede-infested brain in thirty-minute word-vomits such as 'focus' and 'hymn.'
Beware the half-dead voices, the muffled sound of Halsey's "1121" and the various creepy-crawlies perpetually lurking in the dark. Rather, look towards the light of the author's unbridled love for the only place she can truly call home.
Natalie D.C. is an 18-year-old artist and writer based in Pittsburgh, PA. Her writing grapples with her erratic mental health and conflicting half-Moroccan identity. She has been published in two consecutive issues of the Ralph Munn Creative Writing Anthology and has received regional and national recognition by the Scholastic Art & Writing Awards. When she isn't busy working towards her BA in Public & Professional Writing, you can usually find her re-reading her favorite book over and over, watching K-dramas with her little sister or filling her walls with anything and everything that makes her smile. blue pearl is her first chapbook.