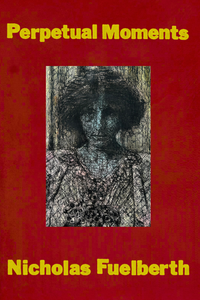 Poetry, prose, chapbook, 28 pages, illustrated from Bottlecap Features.
Perpetual Moments is an assemblage of poems, short stories, and visual art created over the span of two years. The goal is that each of these pages contains a plane of existence, moments you can choose to revisit at will. The words stay the same, but the experience and the reflection you see in the work will evolve along with your development. The pages are in an intentional order, but jumping around may yield comparable or more significant results.
The topics contained in Perpetual Moments include but are not limited to love, beauty, betrayal, and dissociation. This collection is hopefully a fun and enriching read, but also an object that is nice to have in one's home.
Nicholas Fuelberth is a self-taught painter, illustrator, musician, poet, and writer from Minnesota. Fuelberth freely flows between these disciplines but is primarily an oil painter. He is also the founder of the art collective "The Emission" which aims to combat the stale and dull state in which art has found itself. This group, and its movement, are heavily inspired by the works of Deleuze and Guattari. Within the group's work, influence is allowed to flow without restriction. Fuelberth must create, but he also aims to open audiences to new ideas. Ideally, these ideas act as additional tools to use and consider in disciplines within or beyond art. You can find him on Instagram at @nicholasfuelberth