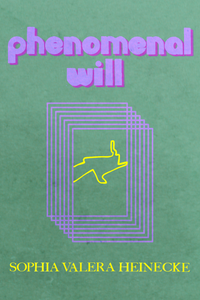 Drama, chapbook, 52 pages, from Bottlecap Features.
In The Portal, overcoming is about unbecoming what the world has expected of us, and understanding how we connect to others is about how we know the process of making decisions for ourselves. An exploration of the mystical and ephemeral human body through the combined forms of a traditional stage play and poetry collection, the short scenes allow readers to overlay their voice onto the conflicts of the characters, to reckon with the scary things we encounter on the exterior of our body that also live within us.

A collection of Socratic dialogues, Phenomenal Will, asks all who encounter it to become readers, players, and participants in exploring the difference between our voices of ego and intuition by seeking dialogue with our community and self. Phenomenal Will's goal is to stain readers' minds and lips with very literal questions to prompt discussion between families, lovers, and friends long after the reading ends.
Sophia Valera Heinecke (she/her) is an award-winning writer, an archivist, dramaturg, high-level divergent thinker. As a community programs architect she is drawn to process-based work and intentional creative experiments. As a writer, she has been awarded the John Golden Prize for Outstanding New Play and LogCinema's Best Play To Film Adaptation. Her play Trash Lord: Renovation was a semifinalist for the National Playwrights Conference at The O'Neill Theater Center. As an archivist, she has supported projects with La MAMA ETC., The Guthrie Theatre, and with the Research Center for Arts and Culture at The Actors Fund. From 2009-2010 she directed, wrote, and produced the CPTV show We Fill The Void. Her creative consulting company Eleven Wise offers a variety of services to assist individuals and companies in vigorously crafting and delivering on the intentions of projects that include live performances, conference convenings, virtual reality, augmented reality, film, archiving, educational programming, social histories, data analysis, and creative coaching. She believes that a committed art practice creates a connection with sacred energy.