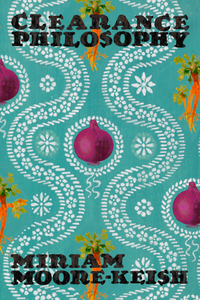 Poetry, chapbook, 44 pages, from Bottlecap Features.
Clearance Philosophy is a collection of poems about big things, small things, and all the big things hiding in the small things.
Moore-Keish balances the dark realities of Southern history with personal accounts of growing up in it, the complexity of faith and family with the importance of memory in connecting to them, and the gravity of change with the gravity of the unchanging. Clearance Philosophy, in its "important nonsense," draws attention to the act of writing poetry, using the craft to disrupt, honor, and remind readers that "silent things can have poems too."
Rooted in place, time, and memory, these are poems of human connection. In her lighthearted and conversational tone, Moore-Keish grieves lost innocence. She reveres carrots and cherishes dust. The poems in Clearance Philosophy ache as much as they laugh.
"This is a book of self-conscious tenderness, painted luxuriously in layers of boredom, inherited traits, humor, and dissolving memory. Instead of making metaphors, Moore-Keish suggests them, offering humble explanations belying firm ideas working through to articulation. However, it is the quiet, chronic images that stick: a recurrent image throughout of domestic fingernails, scratching and catching on the detritus baked into the pan, the confines of love and settlement, the hard wood under a dog's paw, and all the things we know we cannot remember."
–Bethany Catlin-Johnson, Author of Theme & Variations: Poems in Four Movements
Originally from Atlanta, GA, Miriam Moore-Keish received her undergraduate degree in English literature from Macalester College and her Master's degree in children's literature from the University of Cambridge. Her poems have appeared in The Underground Journal, Poets.org, The Hoxie Gorge Review, Poetry South, and The Dead Mule School of Southern Literature. She is the author of one previous full-length collection of poetry and a 2021 chapbook, Cherokee Rose (Finishing Line Press). Miriam is a publisher in Minneapolis, MN where they don't (but she does) sweeten their tea.