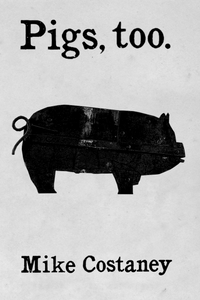 Poetry, chapbook, 20 pages, from Bottlecap Features.
Pigs, too. is comprised of 13 poems. It celebrates the inner monologue without drawing too much attention to it and delves into intrusive thoughts our subconscious might supply us with while in a dream. Surrealism is approached like common knowledge. Comedy and cynicism race each other to the end of each poem without ever claiming a victor.

This chapbook was inspired by childhood, death, cats, sticks, God, and wherever we were before we were born. It's weird, but digestible. These 13 poems hope that when you are finished reading them, you feel inspired to give permission to the most bizarre voice in your head to help you write your own poems and prose.
Mike Costaney is an artist and poet from Toms River, NJ. He started with light-hearted prose and surrealism, using sharpies, black paint, printer paper, and anything else lying around to get crude ideas across– creating tarot decks, paintings, and books. Eventually, the work evolved into plain text, but kept a familiar attitude, never abandoning the surrealism and endearing comedy of the less-polished work.