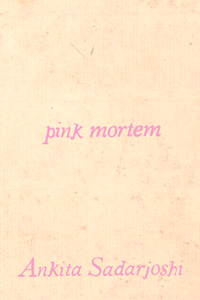 Prose poetry, chapbook, 40 pages, from Bottlecap Features.
"pink mortem is a matrilineal contention with skin as expressed through text that interrogates, praises, and trips up the various promises of shared DNA. I wrote this manuscript because my grandmother, who has had "perfect skin" her whole life, suddenly developed a condition that has freckled every part of her body with meteor landings. My grandmother, now mostly healed, likes to play with her scabs, pick at them, and remark at the blood that comes dribbling after. This is what I did, less gleefully, when I developed an impulse control disorder known as dermatillomania at the age of 17. So, you have two women on boomeranged ends of a genetic spectrum who like their skin as much as they like to see it unravel, and you have a mother in the middle, immune to afflictions this grim. The manuscript attempts to collect and orate these intergenerational similarities and distinctions."
Ankita Sadarjoshi is a poet currently pursuing an MFA in Creative Writing at Columbia College Chicago. She has a background in theater and looks for every opportunity to fuse it with her written practice.