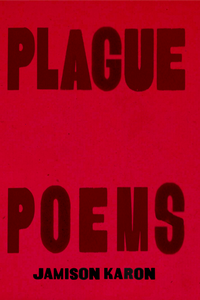 Poetry, chapbook, 56 pages, from Bottlecap Features.
Written between 2020 and 2022, Plague Poems chronicles three years of COVID-19 from the perspective of a queer millenial living in downtown Los Angeles. With its free form, the roving stream of conscience transcends time and space, prodding the psyche of a generation trying to make sense of a seemingly crumbling world.
Broken into two parts, the first half documents the early days in quarantine. The fear, the uncertainty, and the slow crawl back toward "normalcy". The second half brings levity, inspired by a late-plague trip to France. The hot flowery poems of the second act are a reminder that in spite of the contagion, life is still happening.
Sometimes serious, sometimes playful, the collection of poetry examines familial trauma uncovered during times of crisis, and the euphoria of letting all that go. Caught in the crossfire of nostalgia and grief, nothing is off limits, not love, or loss, or psychosis. Inspired by Bukowski's short, quippy social commentary, Plague Poems is half depression-scratch, half French fantasy.
A writer and filmmaker, Jamison Karon was the first literary artist-in-residence at TOM House, where he wrote and published the erotic memoir How to Be a Faggot in 2016. Other notable publications include: Yale University Press, GAYLETTER, EDGE Media, and LA's Department of Cultural Affairs. In 2019, Jamison received his masters in screenwriting from the American Film Institute Conservatory. Jamison refuses to become an outlaw as he moves his brand of sexuality into the American zeitgeist. His unique voice: a young man from a marginalized subculture who wants his work to access the mainstream; to inform, entertain, and move profound issues into our contemporary world.