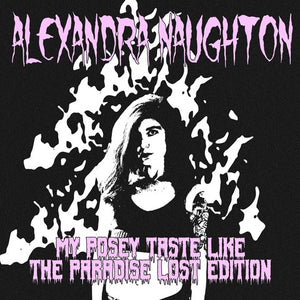 Poetry, paperback, 76 pages, from Bottlecap Press.
My Posey Taste Like: The Paradise Lost Edition is the new, greatly expanded full-length edition of Alexandra Naughton's 2015 Bottlecap chapbook, My Posey Taste Like. It is a concept album inspired by Lana Del Rey. Surreal landscapes and insincerity masked as sincerity and vice versa and limbo is always a place on earth with you with you with you.

This book has two alternate covers, and the cover you receive will be selected at random.

"What Alexandra Naughton does in this book is create the Lana Del Rey that Lana Del Rey cannot even create—poetry allows for a deeper exploration of the tropes and ideals Del Rey obsesses on, and Naughton deliciously works her language for a reading experience that indulges in and ultimately transcends the pale pink motels and pepsi cola and becomes literally the engine of the human condition. Underneath Paradise is something chthonic—so please reader, be prepared. This book is a tomb that you will open because yay Lana and then you will close and think, "holy shit, I have seen too much." Don't worry, this is what writing is supposed to do."
-Lisa Marie Basile

"In My Posey Taste Like: The Paradise Lost Edition, Naughton is telling us she's quite done playing performance poetry games (if we hadn't figured that out earlier.) This is a harrowing examination of obsession as fetish, commodity and tragedy on every level of all our lives. I ain't gonna lie...this is scary and creepy work, but it's head on the nail and it knows exactly what Paradise looks like."
-Paul Corman Roberts

"The Paradise Lost Edition by Alexandra Naughton is dreamlike, sensual & unsettling, in a way that sticks with you and gets stuck in your head like a pop song."
-Leza Cantoral