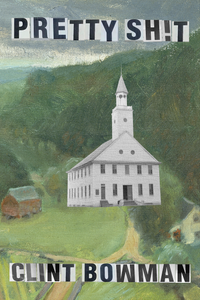 Poetry, chapbook, 32 pages, from Bottlecap Features.
Pretty Shit touches on the "pretty" bucolic nature of rural America and the "pretty" facades of people and organized religion. This chapbook also shines a light on the shitty circumstances of many people who are raised and currently reside in these communities.

Readers are taken on a journey that begins by exiting the interstate and slowly meandering through the side streets and into the trailer parks and surrounding churches. Through awareness of the good and bad, and knowledge of what is in your control, Pretty Shit serves as an anecdote of how to accept your past, no matter how ugly it is, while creating a more hopeful future.
Clint Bowman is a writer from Black Mountain, North Carolina. During the day, Clint works as a recreation coordinator leading outdoor programs such as hikes, river cleanups, and invasive species removals throughout the Swannanoa Valley. Clint is also the co-founder and facilitator of the Dark City Poets Society- a free poetry group based out of the Black Mountain Library.