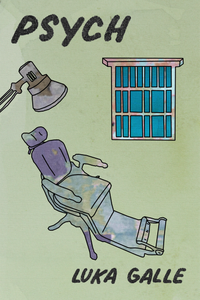 Prose, chapbook, 20 pages, from Bottlecap Features.
Marketed as a safe haven for those struggling with mental health issues, inpatient treatment seemed to be the best solution to receive help after Luka's crisis. She would quickly realize it was a living nightmare. Awful hospital food and eventless days became routine but what happens when a teenage boy convicted of attempted murder threatens to kill you? Or a diagnosed psychopath needs to get an adrenaline rush?
Pysch is a compelling true story about what life is like inside a psychiatric ward with no way out. Written by now eighteen-year-old Luka Galle, she recollects different situations she encountered during her seven-week stay when she was just thirteen years old. With her story being one negative experience out of thousands, it bags the question, is our healthcare for mental illness really helping those struggling to recover or are we setting them up for relapse?
Luka Galle is a poet, writer, and artist from Cazenovia, New York. She began writing about mental health because nothing she was reading resonated with her situation. She hopes to help destigmatize the truth about the more taboo side of mental health. She has been recognized by Scholastic, Dear Poets, and Getty Images. She is also featured in Poetry By Chance, a collaborative anthology by Button Poetry and Metaphor Dice. When Luka isn't writing, you can find her playing rugby at St. Bonaventure University, baking, or outdoors with her pit bull. Visit her on Instagram @lukagallearts