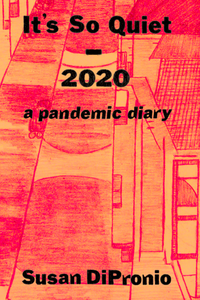 Poetry, chapbook, 36 pages, from Bottlecap Features.
Writing everyday keeps me connected with the world and these poems are from those quiet days of 2020. This chapbook, It's So Quiet - 2020, a pandemic diary, is a first person account, a diary of Covid days reflecting life during that time. Quarantine changed the world, cut us off from each other, boats without rudders. Floundering amidst an alien world, no end in sight, we clung to the tiny changes, glimpses of hopeful futures - and waited.

Having caught Covid at the beginning of March 2020, thinking it was my last days on this strange earth, I wanted to leave behind a chronicle of my life during the Pandemic. I began to write while in bed, difficult to breathe, recurring fevers, trapped alone in Quarantine. In It's So Quiet you'll find a chronicle of personal experiences and observations of the world during that year. These poems are listed in the sequence in which they were written. Days captured, spent looking out cloudy windows, watching for subtle changes as the world tips and shudders. In the darkest moments I close my eyes and dream of the oceans.
Susan DiPronio is a published writer of poetry, plays, prose, one-time houseless and a cancer warrior. An award winning analog photographer and a recipient of The Art for Change Grant and The Transformation Award from The Leeway Foundation for conducting memoir writing workshops with women who are chronically and terminally ill, the houseless, cancer warriors, adults and children with HIV. Their plays, films and photography have appeared in the Philadelphia Fringe Festival, in New York City, in Boston and Toronto, Baltimore, India and Chile and more. You can learn more at susandipronio.com.