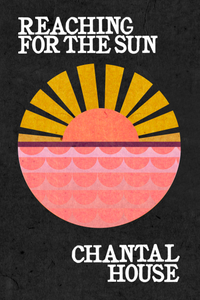 Poetry, chapbook, 40 pages, from Bottlecap Features.
Reaching For The Sun imagines a world where every one of us is a poet. Where poems are part of our daily cycle— play date conversations, an anecdote from our parents, a sentence we reread twice. Every poem in this collection was conceived this way, tapping into Notes along a day.

By sharing the everyday inspiration behind each poem, this chapbook hopes to show that poetry is one of the most dynamic, joyful mediums within which to create. So why not play?

Exploring themes of otherness through the lens of race, gender and age, Reaching For The Sun is for those of us who don't always get seen and whose stories don't always get told.

May we each take time to celebrate the rising and setting of our days and our chapters.
Chantal writes poetry from her perspective as a woman of color, a woman with four decades of experience and a woman who has brought life to this world. Her hope is that these perspectives, often omitted from formally documented history, find a home in the reader's heart.

She is a brand consultant who lives in Brooklyn with her husband and two young children. She holds a BA (Hons) History degree from Cambridge University.

She would love to hear from you at instagram.com/bear_hunt_poetry