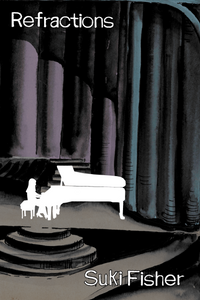 Poetry, chapbook, 24 pages, from Bottlecap Features.
White light when refracted splits into all the colors of the rainbow. Much like this refraction, the author's relationship with her father, who died when she was seventeen, was nuanced and varied. This collection follows her journey to understanding the man that he was and the man that he came to be through their shared love of music.

It is a journey from unknowing to knowing, from distance to acceptance. Along the way, as his health deteriorated, it became a journey of desperation. At times stark, at times lyrical, Refractions illustrates the complexity of familial love, highlighting the ways we communicate when we do not have the words to speak.
Suki Fisher is a writer, educator, and walker extraordinaire. While she mostly writes fiction these days, poetry is and always has been close to her heart. She currently teaches English at a community college in Southern California and often leads students in one of the college's study abroad programs.