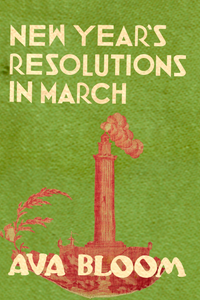 Poetry, chapbook, 20 pages, from Bottlecap Features.
New Year's Resolutions in March is a collection of poetry written for people who feel a lot, find beauty in the cliche, and who may have been referred to as precocious countless times before the age of 9. It explores residing on the outskirts of normalcy and living with a 'let them' mentality.
It analyzes the love we exude without worrying if it will serve us and even appreciating how it can bite us. It shows how we can learn to love unconditionally while trying not to question it. It encapsulates the lessons she's learned, while trying to have a little fun along the way. It is about resolving to do better for yourself.
Ava Bloom was born and raised in Baltimore, Maryland and is pursuing a bachelor's degree in English from The University of Maine. She writes about the things she knows and the things she one day hopes too. New Year's Resolutions in March is Ava's first chapbook.