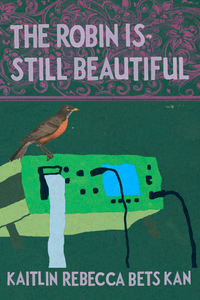 Poetry, chapbook, 44 pages, from Bottlecap Features.
As both a cry of desperation and a nascent attempt at optimism, The Robin Is Still Beautiful by Kaitlin Kan is a compilation of poems written entirely during treatment in residential psychiatric facilities. Despite the taboos against psychiatric disorders, readers are invited into the mind and memories of Kan's ongoing battle with psychotic depression, anxiety, and posttraumatic stress disorder in hopes of forging bonds of empathy with others. Her work also explores her multicultural upbringing, reckonings with religion, complexities of sexuality, and mythologies of past lives.
This publication intends to exemplify and encourage the artistic expression of suffering as a means of transcending the human condition. Although Kan's reclamation of her narrative is deeply personal, she seeks to normalize conversations surrounding identity, trauma, and mental illness. Her collection functions cyclically, opening with "Waking," and retiring with "Vespers;" it finally concludes with the title poem "The Robin Is Still Beautiful" to inspire the hope that allows her to live each day anew despite excruciating pain.
The Robin Is Still Beautiful does come with trigger warnings for rape, assault, suicide, and eating disorders. While it is important to proceed with caution, Kan hopes her stark honesty will expose others to her distressing reality. She takes her responsibility as an advocate very seriously and is honored to be sharing her work with the world.
Kaitlin Kan (簡姬玲) is a Chinese-Latvian writer and editor. Born in the suburbs of Philadelphia, she is an alumna of Phillips Academy Andover and a current student at Yale University where she is studying English and Psychology. In addition to poetry, she has received recognition for her prose and fiction. (All publication credits are listed on her website at kaitlinkan.com).