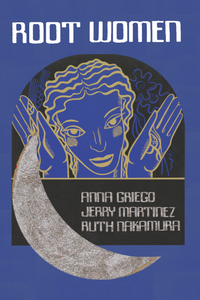 Poetry, chapbook, 48 pages, from Bottlecap Features.
Root Women is a record of dreams in poetic form. Dreams are messages that root us to our deepest self, what some call the higher self or even the root self. This book is an offering of clairvoyance.
In From the Periodical of Dreams, Anna Griego writes from the perspective of forgiveness and healing from loss. Her dreams become messages from a guide of inner strength that lead her on a journey to assurance.
Gossamer Threads by Jerry Martinez is a series of powerful short poems centered on cosmic truth, an assurance of rebirth.
And in Notes from the Spirit Realm Ruth Nakamura writes of the after birth and the process of blooming, renewed through desert magic.
Collaboratively the sections cycle through the renewal of spiritual root women.
Anna Griego is a writer of poetry and prose. Her work entails a sense of magic realism
and presses through the natural into a dreamlike realm. Her poetry is emotionally real and visual and at times physically felt. Anna is a Native New Mexican residing in Albuquerque. She received her BA in Creative Writing and minor in Chicano Studies from the University of New Mexico. She is a co-author of Crow Moon with her section titled Moon: Illuminated. Anna has been published in Conceptions Southwest for her piece "Snowflakes on The Cherry Lip Gloss Impala". She received an honorable mention from Southwest Writers for her piece "". She also published a profile article in Juxtapoz Art & Culture Magazine titled "Grey PVC" in 2008 and is currently working on a collection called The Mother Shell.
Jerry LeJuene Ferriera Martinez was born in Plaquemine, Louisiana in 1944. She grew up in Oakland, California, and moved to Mora, New Mexico in 1952. The childhood village life is chronicled in her memoir Looking Back. She also wrote an Indie titled Tuesday Was Two Days Ago. She resides in New Mexico, paints abstracts, has sold paintings to various local galleries, and wrote various articles in the 80's for Sunshine Artist Magazine.

Ruth Nakamura has a BA from the University of New Mexico in Multicultural Elementary Education with a minor in Creative Writing. She is the co-author of the Indie published full length poetry book called Crow Moon. She has published three pieces in Ofrenda Magazine online, a poem titled "Prayer" and two short autobiographical essays titled "Ofrendas for Grandpa" and "Poetry Is My Medicine, Our Healing". Upcoming in August of 2022, Cordella Press will publish two of her poems, "Grandmother, Hummingbird" and "Fallen Bodies". She currently resides in Rio Rancho New Mexico.