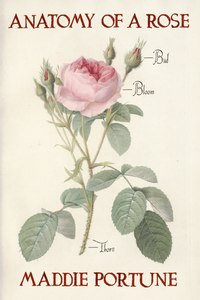 Poetry, chapbook, 28 pages, from Bottlecap Features.
Maddie Portune's debut poetry chapbook Anatomy of a Rose follows the journey of a young woman through childhood ("bud"), sexual awakening ("thorn"), and marriage ("bloom"). It diagrams each of these components as living and breathing parts at all phases of life.

Anatomy of a Rose opens with "bud" which unearths memories of youth, generational love, and the powerful connection of sisterhood. It looks back on these moments through the lens of adulthood and growth, inviting others to join in retrospective joy and personal reflection. "Thorn" celebrates sensuality, touching on bisexuality and identity as an illustration of the speaker's own sexual awakening. The poems featured in this core segment are eclectic—some sapphic, some formal, and some visual to play with the white space of the page. Anatomy of a Rose closes with "bloom," an intimate and honest exploration of marriage—its complex challenges and its unbound beauty. The speaker showcases her own marriage without rose-colored lenses, sketching its tensions with infertility and its surprising warmth in everyday life. Through vivid language and evocative verses, the speaker offers an authentic portrait of partnership, love, and commitment.

Anatomy of a Rose invites you on an adventure of self-discovery, offering a framework through which to weave your own story.
Maddie Portune (she/her) is a poet living in Cincinnati, Ohio with her husband and their cats, Tim and Tony. She's currently an MFA poetry student at Miami University in Oxford, Ohio. She received her MA in English Literature from Indiana University and her BSB in Marketing and International Studies from IUPUI. Her work has been published or is forthcoming in genesis, Indiana's Best Emerging Poets, Reverie, and Litbreak. When she's not writing or reading in her local coffee shop, Maddie can be found training for open water marathon swims or hiking in national parks with her husband. Find her on Instagram, @maddie.portune.