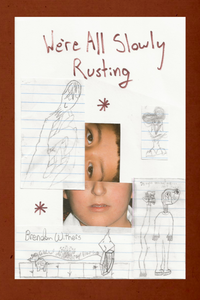 Prose, chapbook, 44 pages, illustrated, from Bottlecap Features.
We're All Slowly Rusting is an eclectic conglomeration of multimedia artistry that includes short stories, poetry, film photographs, pencil sketches, watercolor pieces, collages, and much more. Many of the doodles in this book come from college notebooks that, instead of taking notes in, the author would doodle when bored. These were cut or ripped out, glued onto paper with other doodles/random media, and scanned, which is how many of these pages were made. Any other artwork, such as the watercolor and sharpie pieces, come from his personal sketchbooks and journals, and the film photos were taken by Brendon on 35mm film using various thrift store cameras. All of these elements provide a beautiful package for the text that is sprinkled throughout.

As for the writing itself, much of it focuses on insignificant details from the writer's life, blown up and extrapolated into absurd and surreal descriptions of the events in such a way as to ascribe a unique and personal meaning, philosophy, or emotion to them. This is done to express the subjectiveness of perception, and can show how many miniscule details and trailing internal dialogues of thought make up any one person's life. Some of it is purely fiction, and other parts are more of a stylized expression of real experience, with some of the fun in reading it being figuring out what is what. Stories include: "Caterpillar", where the writer recalls having found a caterpillar as a child, making it a home, and returning to find it eaten by ants, "Beauty," where the writer imagines a scenario in which, during a philosophy lesson, an event causes anything that anyone in the room says to becomes true, quickly turning to body horror, "No Matter the Dirt," a poem about being fearful of leaving home, along with much more. Overarching all of these things and intertwining the drastically varying elements is a subtle expression of the author's personal artistic processes that went into creating such a multi-faceted work of art. This is a painfully real account detailing the subjectivity of art in relation to the human experience.
Brendon Withers (he/him) is a 19 year old musician from Virginia Beach, VA, one of the more sparsely creative well known cities on the east coast. His band is called Hippie Love Party (a name created at age 14 that is now hated by the band), and they play a mixture of emo music and other adjacent genres. This is Brendon's main focus, as a lot of his free time is spent working on songs or practicing/playing shows with his band, so he does most of his non-band related writing at work, before bed, or whenever creativity may strike. He has also noticed that it is very hard not to sound pretentious when having to write about yourself and/or something that you have made. After going to college for one year to study music, and realizing that the academization of music was not suited to him, and took away from the magic of it, he decided to take a break from school to work and pursue any and every artistic endeavor that he may come up with, which is how this book came about!