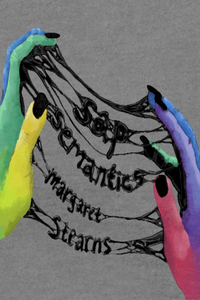 Poetry, chapbook, 28 pages, from Bottlecap Features.
Coming of age is like syrup. It is sticky, sour, and slow-moving. At times, it feels as though it is nearly impossible to wash away. Margaret Stearns' debut chapbook immerses itself in this experience, utilizing sap as a motif, representative of the bittersweet nature of maturation and the journey away from childhood.

Sap Semantics is a chapbook comprised of alliterative, uniquely formatted free-verse poems, illustrating formative growing pains through a lyrical lens. It chronicles the transition from adolescence to adulthood, touching on the powerful themes of familial relationships, first love, gender identity, grief, and independence.
Margaret Stearns (she/they) is an 18-year-old queer poet from New Jersey. She is currently a freshman in college, studying communications. She is new to the poetry scene and has won small awards for her writing in the past through her high school, university, and local competitions. Margaret is a Best of the Net nominee and was most recently featured in Antonym Lit's December issue and Moonstone Arts Center's 26th Annual Poetry Ink Anthology.