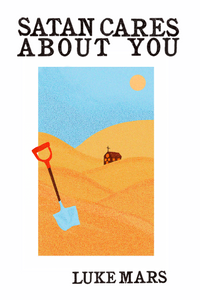 Poetry, prose, chapbook, 20 pages, illustrated, from Bottlecap Features.
Satan Cares About You starts in a megachurch and ends in a gay bar. Originally an act of vandalism behind Colorado's largest evangelical church, it became a personal motto, a source of comfort, and, finally, a poem. "Satan" once meant opposition and self-determination, but many people now interpret it as a symbol of perversion and corruption. Maybe, it can mean both.
Luke Mars' debut chapbook explores Satanism, Christianity, and queer identity. It follows the author's complicated relationship with religion, from evangelism to devil worship; atheism to apathy. These deeply personal and visceral poems explore conservative Christian homophobia, depression and delusion, and queer liberation. With anti-gay and anti-trans sentiment rising in many religious communities, sometimes it's safer to make our own spaces.
Luke Mars (he/him) is a writer, cartoonist, and barista based in Minneapolis. His work focuses on queer and trans identity, religion, and mental health. His favorite genre is science fiction, and his favorite drink is a cappuccino. Satan Cares About You is his first publication. More of his work, including his comics and illustrations, can be found on his website, martianluke.com