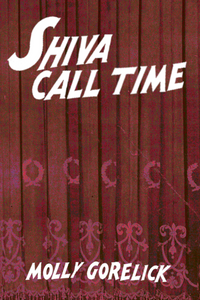 Poetry, chapbook, 32 pages, from Bottlecap Features.
In 1987, Borscht Belt comedian Alan King performed a set at Caesar's Palace where he used obituaries cut out from newspapers as props, making the point that men are always outlived by their wives. After watching this set on YouTube, author Molly Gorelick asked her father about it. He told her that King became his mother Ronnie's favorite comedian after she saw him perform at a synagogue after her husband died. She said that it was the first time she laughed since his passing.
Inspired by this story about her grandmother and Alan King, and comedian Sid Caesar's "double-talk" or gibberish, Shiva Call Time explores the Jewish tradition of processing trauma through humor. In this chapbook comprised of fake letters from her grandmother to Alan King, homophonic translations of Yiddish poems, dream shiva wish lists, and her own gibberish poems, Gorelick interrogates how Jewish people use language to get a laugh, even in the face of death.
Molly Gorelick is a Philadelphia-based writer pursuing her MFA in Poetry from Temple University. Her work has been published in Graphite Journal, Wax Nine, and Academy of American Poets. Shiva Call Time is her first chapbook.