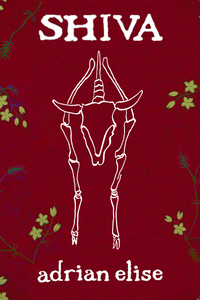 Poetry, chapbook, 24 pages, illustrated, from Bottlecap Features.
There is beauty and burden in navigating the seasons, cycles of our lives. adrian elise's debut chapbook collection SHIVA explores this dichotomy through the lenses of passion, grief, cursed femininity & evolution. A hurt, yet optimistic, narrator celebrates love, mourns loss, and navigates the spectrum of fear on a journey separating her identity from the endless roles assigned in this life.

"She is captivated by her reading. Here I am just grateful to be alive, iconic damage…" SHIVA is the voice in the back of your head cycling through those intrusive thoughts and pondering what will be left for you once the table settings are cleared. "Bleed, the nurturing stipend" She is bleating for the lives of loved ones, bartering for the chance to birth life of her own in an intimate tug of war with the universe. We peel back the superficial layers to find flesh wounds, vibrant fantasies, and hope that grows resilience in this collection of smirking, self-aware poems.
adrian elise lives and writes from the suburban space Southeast of Chicagoland. Her work has been featured in MIDLVL Mag, Riot Grrrl Press, Colors Mag, & Body Fluids Lit. She is a sandwich generation caretaker who enjoys bad karaoke, black coffee, and slow mornings. www.adrianelise.online