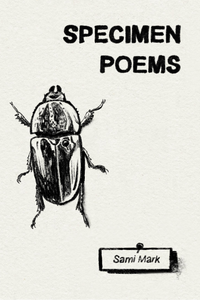 Poetry, chapbook, 28 pages, from Bottlecap Features.
Specimen Poems is a collection of poems written as I wondered what a collection of my life experiences would look like on paper. Each poem is written following the structure of a specimen label you might find on an insect in a museum - a name or title, a line denoting the time it was found, 3 lines of description, and a final line with the name of the collector. They read together as a catalog of events and a collection of memories. Some of the memories are good ones, some of them bad, and most of them land somewhere solidly in between.
Writing this collection was healing, eye opening and a little bit funny. I gravitated to insect labels because of my hobby of insect pinning, which turned out to be a perfect format. It taught me both the importance of small events that stick with you through your entire life, while simultaneously showing me that when you really sit with that event long enough to start writing it down, at the end of the day it's three lines on a piece of paper. The positive poems are kind reminders, and the negative poems are assurances that the event has come and gone.
Sami Mark is an artist located in the Chicagoland area. They are fascinated by the intersections of art and science, frequently making work about the small and even microscopic forms found in nature. They believe that making approachable art about the natural world creates empathy in viewers towards things they might not otherwise want to learn about, such as insects, fungi, mold and creatures not visible to the human eye. When not in the studio, Sami enjoys hiking and foraging.