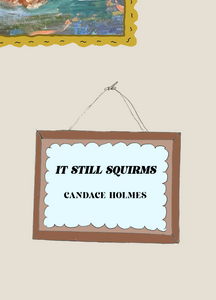 Prose poetry, chapbook, 24 pages, from Bottlecap Features.
This collection of poetry mimics the experience of walking through a museum, with each piece a label for artwork that does not, and is some cases could not, exist. It explores the ways we connect and disconnect with our body as it clumsily translates its experiences to our brains. By creating a museum of only the descriptions, these poems invite you to construct a mental gallery to walk through, one with warped parameters of what is possible.

It Still Squirms examines how we endure external and self-inflicted harm, the survival instincts that make us human, like running away, believing in an afterlife, loving your soft sweet friends, or making art.

Candace Holmes (they/them) is a poet from all over the U.S., currently living right in the middle of it (Kansas City, MO). Their work can be found in Metatron Press's Omega, Potluck Magazine, Reality Beach, and a variety of other literary journals.