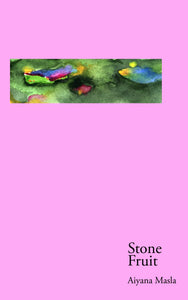 Poetry, chapbook, 36 pages, from Bottlecap Press.
Tracking the seasons, Stone Fruit brings intimate awe to life's mundane. Invited to come close, the reader enters a sensual landscape, where one can be heartbroken over and in love with the visceral details of daily life, the natural world, and with anyone, at any moment. Sentimental, erotic, of the body, and fiercely human, this collection asks the questions, how many ways are there to love? And inherently, within that, to let go?

Arcing through a year's time, the collection yields to emotion, pleasure and tenderness. By observing the world with sensitivity, Stone Fruit makes movement towards the possibility of subtle, yet vital, cultural change. Each poem, at it's heart, is a love poem of some kind, with it's attempt and determination to adore detail and appreciate the depth of basic aliveness.

This collection of poetry is both reverence and reckoning. How do we express our adoration and attachment while aware of the eminence of entropy and death? What is the quality of our presence, as time passes through it's seasons? Enraptured with the beautiful ache of this human struggle, Stone Fruit brings the gaze of the lover to all things, and is offered both as a tool for resilience and as a way to praise.

Cover art also by Aiyana Masla.
Aiyana Masla is an interdisciplinary artist and educator. Also a painter, musician, songwriter, storyteller, and physical theatre performer, her artistic work is dedicated to dignifying the senses, the body, nature, queer eroticism, spirituality, and emotion. She grew up in a rural town without a stoplight, has lived in many different places in the world, and currently lives in New York City. You can find more of and about her work at www.AiyanaMasla.com