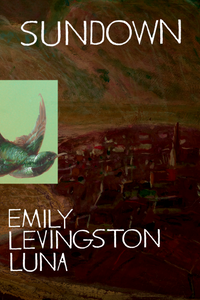 Poetry, chapbook, 32 pages, from Bottlecap Features.
Sundown is a collection of poems about shapeshifting, suspension, and skipping around in the dark. The poet writes during an unusual season of life, living and working away from home for six months, weathering homesickness for her loved ones, and leaning into new truths about herself. Here she finds spacious, wholehearted friendship, whimsical energy as a coping strategy, and more gentleness for self, right alongside new depths of grief and unresolved questions.

Part of the human experience, at times, is to choose a difficult thing in the present in the hopes that the future will be better. While one is in the middle of the difficult thing, what unforeseen repercussions present themselves? What unforeseen loveliness? The poems explore the movements between and through calculated grit and surprising joy, chosen vulnerability and unexpected heartbreak, cocooning and seeking connection. Born of an in-between time and space, Sundown ultimately aims toward what comes next, more as a courageous direction than a known destination.
Emily Levingston Luna is a midwife by day and sometimes night, a mother, poet, singer/songwriter, and once-upon-a-time English major who fell in love with birthwork and remains in love with words. She has previously written two chapbooks, moth (2018) and porch bells: on motherhood and mother tongues (2019), and contributed music, lyrics, vocals, and mandolin to the album Smiles Left Behind in 2020 as part of the band Alameda August. She lives with her family in Las Cruces, NM.